TeamOB helps team members to manage their work, increase work efficiency. TeamOB can track time of team members efficiently to increase productivity, whether your team is in office or working from remote places.
Automatic Time Tracking
TeamOB is a fully automatic time tracking tool that fully identifies how much time has been spent on the computer and how that time is used or how that time managed. It identifies the organization productivity level, time spend away from the computer. Its highlights the number of working days and consistently being late.
Since TeamOB is fully automatic meaning its start tracking time as soon as your computer turned on. That means that no manual input needed. This feature of TeamOB allows employees to check their status in actual time and see how productive they are in the business growth.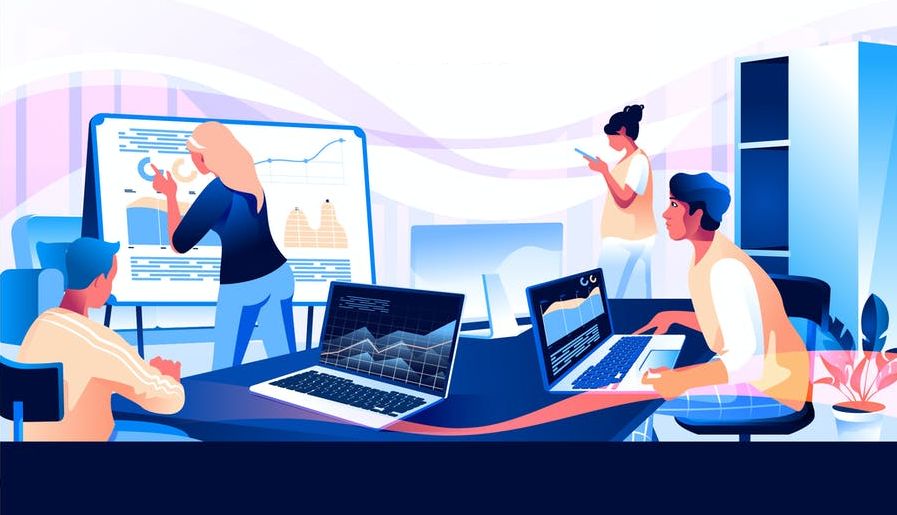 Capture Screenshot
TeamOB employee monitoring software automatically takes screenshots of employee work screen at regular intervals.
TeamOB capturing screenshots feature provides you control over the task going on in your team by taking screenshots of the employees laptops/computers automatically at a predefined interval.
In this way, team managers can get notify of what applications and websites are actively used and have a deep insight of how the team members time resources are spent.
Website and Applications Tracking
TeamOB Time tracking software tracks what app and websites you and your employees use during the day. Teamob allows you to categorize these apps and websites into productive and unproductive.
As teamob tracks how much time you spend on productive and unproductive websites and apps. It automatically calculates your daily productivity.
Project Tracking
TeamOB is a project time tracking software manages your employees' workflow as efficiently as possible by tracking projects and tasks. With help of this feature team leader can execute projects within a time frame by keeping all team members on the respective project work time frame.
Team leader can notice the time spent on the project and divide it up on each employee to see how much time each of them spends on the assigned project. Therefore, TeamOB track the projects assign to the employees, estimate cost, and see work reports.
Track Idle Time
TeamOB employee analytics monitoring software tracks work active time on basis of mouse and keyboard events performed by the employee.
The time when no mouse and keyboards events calculated that period of time is considered as Idle.
Offline/Manually Time
TeamOB employee time tracking software provides the option to team leader to manually update the time spent on the project away from the work laptops/computer by the team member. This helps to identify the reasons for absence and add in category as productive, unproductive, or neutral.
Inspire team members to take breaks
TeamOB employee time tracking software pause feature allows employee to take a break while working consistently. Taking break between work time is one of the useful ways to stay productive. Employee can engage them in take a walk, eat some food, get them refresh.
Productivity Report
TeamOB employee analytics monitoring software measures employee productivity by time spent on productive apps on the assigned projects and tasks. To get more accurate productive report, team leader can categorize apps as productive and unproductive manually.
For example, any social media sites consider as unproductive. If in case your team member work on social media marketing, then employee need to be on social media. So manage employee productivity, you can set social media sites as productive sites.
Real Time Dashboard
TeamOB time tracking software allows team leader/manager to see the information about the team members activities on the real time dashboard. In this dashboard you can find the active time of your employees as productive, unproductive and neutral by the apps they are using during working hours.
You can also see if the employees are being online/offline by the color of their icon. If it is green they are online, if it is grey they are offline.
Employee Attendance Solutions
TeamOB attendance management also called as staff management software feature allows team leader/manager to tracks an employee time from the moment they turn on the computer including break or attending meeting and on absent.
TeamOB automatic time attendance solution manage daily login and logout time of employees by itself. It input in the timesheets itself.
Bi Report
TeamOB business intelligence report allows you to manage your big data to represent in the analytical presentation that can help you to make intelligent business decisions.
TeamOB BI creates an increase in workflow, provides real-time & past data, makes room for an informed strategic decision making process and provides an enhanced quality of overall data.
Incident Monitoring
TeamOB incident management feature automatically convert alarms from your network and website monitoring tools for some defined text and email id, websites.
TeamOB record every possible piece of information on an incident creation. It enables team leader/manager to get regular updates on the incidents with notification.
Email Monitoring
TeamOB email monitoring features allows you to prevent security leak to your business. TeamOB email monitoring provides to setting to input email address that organization can be used.
Employees who checked out personnel emails can be quickly noticed.
Employee Analytics Monitoring
TeamOB employee analytics monitoring software features provides you to monitor employee engagement, improve employee productivity, business performance report, employee absenteeism monitoring, identify performance problems, benchmark against same sized companies, data collection, insightful reports, data usage, employee productivity.
Employee Performance
TeamOB employee monitoring feature allows you to compare the work done on projects of years of an employees and see the most productive time of a week, month, or year.
Employee performance reports helps you to analyze team member performance which leads to growth of organization.
Access actionable data through TeamOB to create employee analytics. Contact us today!