The 21st century is undoubtedly another wonder, we are witnessing a gigantic transition around the world, be it in technological advancement, in the medical arenas, the educational institutions and more. These advancements have made our lives much easier than ever, technology has turned out to be a lifesaver in all our lives. Now that we all are so engrossed in using the technology that these technologies have become a part of our lives and we are finding it hard to move on without this assistance. It is assisting us from the time we wake up till we hit the sack.
Talking about our lives at the workplace must be a definite aspect as technology has brought a revolution like never before.
What is meant by "Desktop Monitoring Software"?
"Desktop Monitoring Software" is a software which assists in tracking and reporting the day-to-day activities at the workplace. Assorted companies' significant motive is to enhance their productivity to the extreme level possible and this can not constantly be feasible through manpower as humans can commit blunders at certain times but software do not as they are instilled with extensive proficiency that does not perish or deteriorate with time nor do the software commit such errors.
Purpose of "Desktop Monitoring Software"
The Desktop Monitoring Software serves the right needs of any organisation. The valid purpose of this software is to avoid ensuring that all the input data is confidential and to trace out the insider threats. This software is used by most reputed companies worldwide.
Why does your organisation require the "Desktop Monitoring Software"?
There are numerous explanations why does one need to install this software in their organisation.
For now, we are going to comprehend a few reasons below:
1. "Desktop Monitoring Software" enables frequent regulations of login and logout time of the end-users, it computes the number of hours worked by each personnel and makes a report of the same. It enables you to understand as an employer the right time that an employee started his/her work and the time he/she has ended.
2. Do you always worry about your employees being less productive at the workplace? Then without any second thought go get this "Desktop Monitoring Software" installed on the individual's PC. This software helps in computing the number of hours worked productively and the number of hours spent idle in unproductive activities. When the employees are given knowledge about this software they will ensure to work productively without taking any risks. And your productivity status takes a shift.
3. The "Desktop Monitoring Software" will help you in surveying the usage of social media and the internet. A lot of employees tend to switch to social media handles while working and it can sometimes get hard for them to focus back on their work or given tasks. This software calculated the percentage of internet used by each individual and the time spent on it. But having this software helps your employees in being tactful with the office work.
4. Employees should be assisted with the work they need to be accomplished and sometimes it is not possible for the employers to assist employees due to unavoidable circumstances, during such intervals the "Desktop Monitoring Software" comes in handy. This software will consist of a worksheet which will enable the employees to learn about the allotted tasks.
Additional advantages of having "Desktop Monitoring Software"
1. This software tracks the attendance of the individuals.
2. This averts the employees from surfing the internet for no specific reason.
3. It cuts down the time spent idle at the workplace.
4. It helps in capturing screenshots when required.
5. It continuously secures the identification of the remote agents and makes the report of the same.
6. It can detect the usage of forbidden gadgets.
7. This software averts a and recognizes the unauthorised application or websites such as viruses, spyware and more.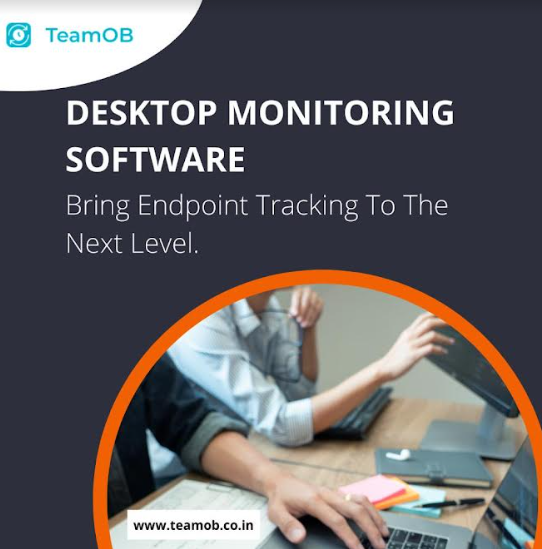 The disadvantages of "Desktop Monitoring Software"
The crucial criticism that this software is evolving around is the violation of privacy.
The users tend to believe that the Desktop Monitoring Software curtails the freedom of privacy of the users, this is indeed true up to an extent but with certain policies and procedures, this can be curbed.
Before installing this software the company must ensure that all its employees are enlightened about this software and are given ample support and confidence, and this software must be enforced with the consent of all the employees in the organization.
Points to be considered before adopting the "Desktop Monitoring Software"
Well, there is numerous software in the market but before you install it, one needs to explore and research the various software. There are a few software which might not be a requirement to the company as they are introduced with lots of features and there is other software which will serve your needs with minimum features required. Alongside there are fake Software as well which will damage the whole system when installed. So before you opt for any software talk to a professional and research it thoroughly.
What type of Monitoring Software should you opt for?
There is multiple Monitoring Software available for you but before you opt for any software you need to comprehend your need. Whether you are looking for financial monitoring software, technical monitoring software or business process monitoring, you must understand your needs. Without knowing what your requirements are you can not take a major step into investing in this software. Each kind of software serves you a different need from others. One helps you in preparing reports of the financial aspect, others help you in processing the employee's performances on a day-to-day basis and the output analysis on a monthly or yearly basis respectively.
Conclusion:
Everything that exists in this world has both a bright and dark side which lies on the same spectrum. Nevertheless, you need to understand what your requirement is and what your predominant motive for initiating it is.
Yet, having said that the "Desktop Monitoring Software" is not just on-trend but has become a key support to most of the organisations in and around the world. Assorted organisations all around the world have witnessed the privileges of having it in their work environment. This unique featured Software has become everyone's need these days as it is pretty affordable to invest in as well as easy to use.
So what are you waiting for? Think about considering the "Desktop Monitoring Software" that will help you out when you are in the need of knowing and understanding everything that is happening in your work environment.
Try TeamOB desktop monitoring software and employee monitoring Software today!, please feel free to contact us.