Team Management is a proficiency of an employer, team leader, manager, administrator or an organisation to lead the team or to coordinate the team or an individual's performance based on the allotted task or a project. Managing the team can sometimes become complicated to deal with and sometimes it so happens that not all the employees working for an organisation take a stand on the same notion.
Plenty of times there are probabilities or likelihoods which initiate a contribution towards misunderstanding, inefficient performance, unproductivity, miscommunication and more. To curb all of the above elements an organisation needs to build a team that is capable of looking after all the possible events occurring regularly and how that particular team has to be led further in the organisation, company and institution.
Basically, Team Management becomes a tremendous as it comprises a lot of day-to-day activities within an organisation such as teamwork, understanding the ability of every individual employee, computing the performance of the team as well as the individual employee, having a formal conversation, clarifying the queries of the employees, contemplating the accomplishments of the team as well as the individual employee. All these elements matter the most when we consider the operations of teams or while accomplishing certain tasks as a team.
What does TeamOB provide you and how will this enable you to work on Team Management?
TeamOB is a Software Company that specialises in unique software such as Employee Monitoring Software, Desktop Monitoring Software, User Monitoring Software, Employee Productivity and Insight Software, Insider Threat Detection, Employee Monitoring and Performance Insight Software and much more.
This TeamOB software company is rendering excellent services to a lot of budding and well-established companies all around.
DEFINITION of "Users Activity Monitoring"
User Activity Monitoring (UAM) is a software tool which is incorporated into the systems. These tools are used to regulate and track the users of that particular system. It aids in tracking user behaviour of the employees, employers, partners and more on several devices and networks. This software is periodically called the Employee Monitoring Software.
This software is highly prevailing in the IT or the software hub as this software comes with extremely significant features and characterisation which is helping various companies in our country and all around the map.
Why do you think that assorted organisations are opting for the User Monitoring Software?
Well, the answer to this is pretty simple and genuine. This software comes with unique features and characterisation which leads the organisation's productivity status to a different level. Moreover, it enables the organisation, companies, employers and others to understand the ability of the team as well as an individual employee. This also assists in satisfactory Team Management which is indeed the prime objective of the organisation when it comes to dealing with the personnel.
Why is Automated Team Management crucial to any organisation?
Teamwork plays a key role in any kind of organisation and sometimes it is difficult to manage the whole team, schedule the tasks and projects, deal with the queries, and have adequate communication between employees and the employer or among the employees are certain prime aspects when it comes to Team Management. It can not always be feasible to get things done smoothly, so it is essential to consider investing in a promising software or a specialised team who assists you in working with the software. And that software is basically the User Digital Activity Monitoring Software.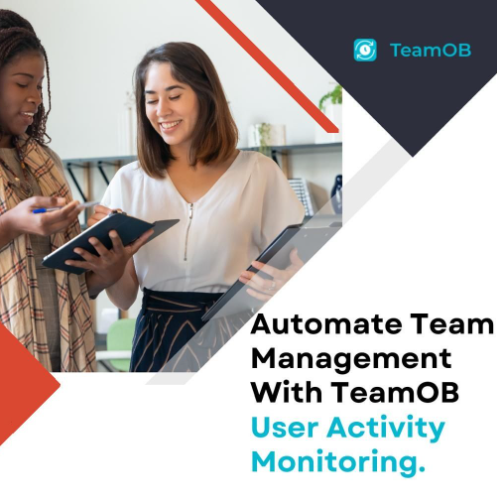 How does TeamOB User Monitoring Software assist in automated Team Management?
TeamOB is a prevailing software company which provides various software services to different organisations and one of those services is Automated Team Management.
This software will enable you to get your whole work together in the best way possible along with zero percent trouble. TeamOB will literally help in taking you through all the required procedures and legal formalities if required and will ensure to make your job easy without any concern. Now not much personal surveillance is required to look after and handle the employees because this unique User Monitoring Software does the things for you in the relevant procedure.
What are the features of User Monitoring Software concerning Automated Team Management?
1. The User Monitoring Software will help you in designing your own required and precise schedule for the team and also allots the work to all the team members according to their skills and efficiency. And this ensures that there is no bias among the employees working for that particular team.
2. This software allows live chat which enables the team to discuss privately and the employees can ask questions and get their doubts clarified within a jiffy. Hence builds a great squad.
3. This also increases the productivity of the team as well as an individual. Because this excellent software will help in computing the number of hours worked productivity and the number of hours spent on unprofessional activities. This will not just let you know the efficiency of the employees but also helps you in understanding how effectively they are working as a team or as an individual.
4. Once the tasks and projects have been accomplished this software will help track the progress of the task and projects accomplished by the team. And the progress that is computed will help in further decision-making.
5. One of the most important features is that this software will help in surveillance and an employer, the organisation, and team leaders can take a back seat and concentrate and work on other important activities and need not worry about the survey because this software will do the thing for you.
All of the above-mentioned features and characterizations will help you in understanding how good this software helps in building an efficient team for your organisation. Having an efficient and effective team in an organisation will not just help the organisation for the best but also helps incorporate a better work environment. Alongside it will enable in retaining a healthy competition among the employees working for your organisations.
Conclusion:
I guess you already considered investing in the User Monitoring Software, if you haven't yet then you should definitely try your hands on this exceptional software which indeed makes your lives better and easier and hassle free. There are several other software which helps you in battling with the problems in their respective areas.
Try out the TeamOB user activity monitoring software today!, please contact us.