Employee Monitoring Software has taken a major part in the day-to-day operations of the business organisation, the outsourcing industries, or any provided business firm. Apart from Employee Monitoring Software, other software that is closely related to this also took a major drive in today's business world, like:
1. Employee Analytics
2. Employee Productivity Insights Software
3. Employee Productivity Monitoring
4. User Activity Monitoring
5. Workforce Monitoring
6. Time Tracking Software
7. Desktop Monitoring Software
8. Team Management Software
9. Incident Monitoring and more
These are software assistance provided by TeamOB which is an ultimate solution for a lot of hardships faced by business organisations in India as well as all around the world. Usage of this kind of software has indeed become a trend and a must-have to operate regular activities and hence it has a solution for anything and everything. Moreover, the easy procedure of this software has enabled people to invest in this alongside the privacy policies that have made things better. Various organisations are opting for this software to make the procedure easy and hence it has turned their lives for the best. Since the competition in India, as well as all around the world, has taken an upswing, we see a lot of unethical aspects taking place such as insider threats, malware, hacking, data loss and more and to curb such happenings a lot of software companies are coming up with privacy strategies just like this, TeamOB also has certain policies and strategies in concern with the privacy.
What do you mean by Team Management?
Team Management is a proficiency of an employer, team leader, manager, administrator or an organisation to lead the team or to coordinate the team or an individual's performance based on the allotted task or a project.
What do you mean by Insider Threat?
An insider Threat is a violent hazard or an obstacle coming up to any prevailing organisation in India as well as around the world which usually happens through the employees, abandoned employees, clients or business partners or deputies who already have an idea of the data concerning that particular organisation. The data could be something respecting the company's security procedures, computer systems and more. Therefore Insider Threat is considered a cybersecurity risk.
What is Productivity and Insider Threat Monitoring Software?
Productivity and Insider Threat Monitoring Software is the assistance which enables the organisation in tracking the Productivity status of the employees working for an organisation along with preventing Insider threats through the inmates of an organisation. This software comes with some extremely unique features and characterization which helps in the smooth performance of the organisations and enables computing the activities regularly.
What do you mean by Incident Monitoring Software?
Incident Monitoring Software is a monitoring tool which enables handling circumstances which are unavoidable or events that happened uncertainly or unexpectedly.
What are the features of Incident Monitoring Software?
Features are something that is important to make its place in the market and that decides the future of that particular product or service. Let us take a look at the features of Incident Monitoring Software.
1. Identification of the problem
2. Analysis of that particular problem
3. Correction of the errors or the problem
4. Prevention from further happenings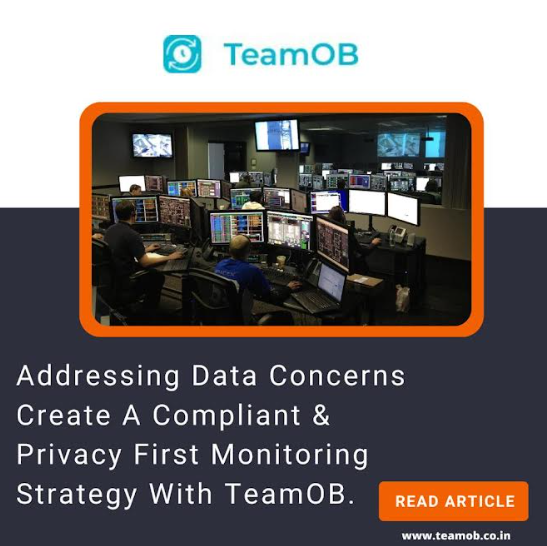 What are the benefits of Incident Monitoring Software?
Every software or application or website has its share of benefits, which is the only cause that still prevails in the tech market. So let us have a look at the benefits of Incident Monitoring Software.
1. Improvised productivity of the employees as well as the employees.
2. The quality of the service is maintained and hence is top notch.
3. Adequate scope for improvement.
4. Empowers user satisfaction.
5. Updation of the software is pretty simple and reasonable.
6. Promising service management documentation.
Incident Monitoring Software enables handling uncertain things and tries to take off everything without much effort.
Let us discern this vividly.
Here we are presenting certain ways to create complaints and privacy first monitoring strategy with TeamOB
1. Confine Employee's Personal Data: Incident Monitoring Software enables confining the details of an individual employee through a software application which enables building up trust and ensures that every single detail or data is retained confidentially. This also sees that no third person can access the provided data without the permission of the authorized person. As the data furnished by the employees can sometimes be misused by other people for their fame, or to defame that particular employee.
2. Only necessary data could be captured: Assorted organisations enable their employees to capture screenshots of required data for better understanding and better processing but this sometimes can trigger and aid in the occurrence of insider threats which will only harm the organisation in the future. Capturing necessary data will ensure minimising the case of an insider threat or any sort of unethical happenings.
3. Prevention of Data Loss: Prevention of data loss is one of those sensitive aspects which requires intensive care. The data could be just anything related to the business organisations. Hence the Incident Monitoring Software enables in preventing the data loss through its exceptional features and yes, this software is a game changer for a lot of organisations who have already invested in it.
The above-mentioned aspects are a few ways to create a complaint and privacy first monitoring with TeamOB. TeamOB has an expertized and well-skilled squad which enables us in taking things and operating the same more smoothly. TeamOB certainly has a solution to every hardship that your IT service sector or outsourcing industry is currently facing. A bunch of business giants have already tried their hands on these kinds of software so you do not lag, try yourself and you are left with zero regrets.
Conclusion
All in all, we have together entirely discerned elements about data privacy, retention of sensitive data, prevention of data loss and more. Well, these things typically play an important role in any provided business organisation and having control over these aspects will enable the business to work promptly and actively. So if you have not invested already then it's time for you to do so, because why do you want to exclude such sensitive additions to your business organisation? Now, the time is here, consider investing and live with zero regrets.
Try out the TeamOB User Activity Monitoring Software today!, please feel free to contact us.