Team leaders are the ones who ensure that their teams are working effectively and efficiently and lead the team on the designed path. Also, team leaders are those who take care of employees working under them, right from the minute aspect till the most prominent one they handle every single thing that is in concern with the business organisation as well as the employees working under their mentorship. To get the best out of the team a mentor must put in adequate efforts to ensure that everyone and everything lies in the niche. A bunch of organisations use personal surveillance which does not show precise records hence those maintained records could be manipulated at any given point in time. However, this used to be trouble but not any longer because technology has brought a huge change in and around the world that everything has taken a toss. Though everything is done in a jiffy these days, certain elements need to be taken care of before implementing something, especially concerned with the course of action. So here we are presenting to you some of the best practices that you as a team leader can pursue to get the best out of your team.
TeamOB has come up with some of the best software which is going to be the life-fixing software for your business organisation and they are:
1. Employee Monitoring Software
2. Employee Analytics
3. Employee Productivity Insights Software
4. Employee Productivity Monitoring
5. User Activity Monitoring
6. Workforce Monitoring
7. Time tracking software
8. Task Management
9. Desktop monitoring software
10. Team Management Software
11. Detecting the insider threat
12. Protecting the business organisation from insider threat
13. Enabling better operations of employees working remotely
14. Team Monitoring
15. Team Analytics and more
What do you mean by Task Management?
Task management is the procedure of overseeing a task through its life series. It involves planning, testing, tracking, and reporting. Task management can benefit either individuals achieving goals or groups of individuals collaborating and sharing knowledge for the accomplishment of collective goals.
What do you mean by Team Monitoring?
Team Monitoring is akin to Employee Monitoring which supervises the employees through a monitoring program which could be set up in individual systems at the organisation. In other words, it can be called a controlling agent which involves positive actions.
Why is it important to manage the team?
Well, this influential software advances the company in a handful of courses of action, for instance, it aids in deriving the utmost utility from each employee like never before. A lot of employees spend time on unproductive pieces of stuff which negatively affects the company. Also considering that we are in the 21st century and gravely need something like this to transform our organisations for the best.
What are the best practices for a team leader to get the best out of the team?
1. Team Monitoring software enables the employees to retain their productivity even though they are working from home. But how? The Team Monitoring Software indeed computes the login and logout time of that particular employee.
This will not just aid the organisation and the HR manager in finding out about their login and logout time but also provokes the employees about their punctuality and promptness. Hence, it boosts productivity to a different level.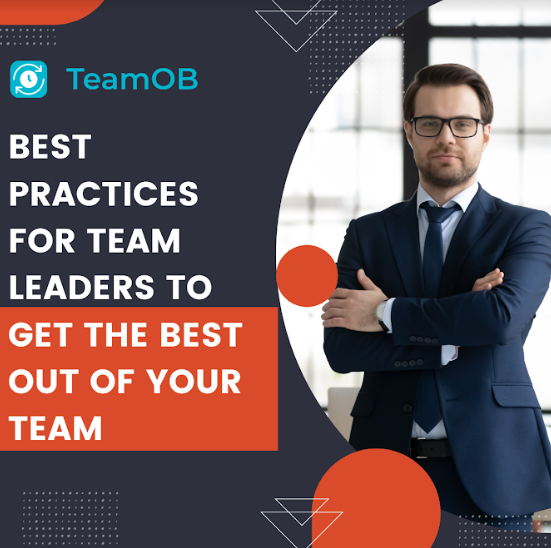 2. Most companies expect their employees to be productive enough to meet the company's intentions and goals. But we always end up having unproductiveness and objectives that are not fulfilled within the stipulated time. One prime reason for lack of productivity is that employees are accessible enough to switch from one application to another and are active on their social media handles, now this is a whole lot of distraction for the employees and a disappointment to the organisation. Nevertheless, this can be easily curbed through the special techniques of Team Monitoring Software, this software averts the employees from switching to other feasible applications while they are working on a task or a project for the company.
3. Team Monitoring software and Task Management computes the attendance of the employees, it enables the employers to learn the number of hours worked in a day, week and month. This not just helps in computing but also helps in making a report of it and you as employers do not have to worry about making the same reports.
4. This unique featured Team Monitoring Software and Task Management will aid you in understanding how many hours the employees worked even after logging in, yes this will let you know the number of hours spent working on organisational tasks and projects and the number of hours spent idle doing nothing.
5. Maintaining day-to-day with every individual employee can certainly be a huge task at times but not any longer after investing in this Team Management software. This records and files every task, project and other requirements fulfilled by the employees for their organisation. Also, it ensures that there is no due until there are any unavoidable circumstances. Hence every work will be done by the employees within the specified time.
6. The Employees might not have thorough knowledge about the allotted task at times also the employers can not also be available at certain times, at such intervals this Team Monitoring Software and Task Management come in handy. It contains all the work details as in what has to be done and what has to refrain. This way the employees can effortlessly handle the given tasks without approaching their employers.
7. Team Management software has a feature where the employers, as well as the employees, can live chat. This helps the employees to clarify their doubts through live chats and the employers without any hassle can quickly clarify the doubts of the employees.
8. The Team Monitoring Software detects errors, working from home can sometimes be difficult when errors or blunders happen. And the employees can not always seek the help of their employers so this software will automatically detect such errors and blunders and show you the right path that is supposed to be pursued.
9. Team Management software contains all the required details of the employees' salaries and deeds, along with certain official reports. This feature will ease the work of the employers and ensure that every individual employee is getting paid on time and also no one is underpaid. This will avert the employees from questioning the employers about their salaries because their every single performance and accomplishment is precisely recorded by this well-versed Employee Monitoring Software.
10. This software will enable you(employers) in acknowledging the ability of your employees working in your organisation. Since the Employee Monitoring Software has unique techniques which provide you with the reports of everyday operations and every single detail about the worker's accomplishments and performances. And this further helps the employers or the organisation in the decision-making.
Conclusion
Well, the above practices are something that you should try your hands on to ensure that your employees give their best at a given task and in any given circumstance. If you are lacking the above-mentioned software, then without any delay contact TeamOB to enjoy the best experience with no hassle.
Try out the TeamOB Team Monitoring Software today!, please feel free to contact us.